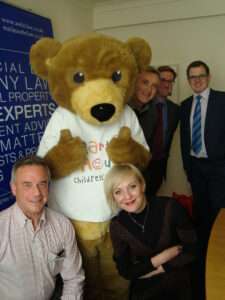 Keighley, Skipton, Bradford and Bingley based Law firm AWB Charlesworth and Skipton Accountants Pearson & Associates were delighted to present a cheque for £2,140.00 to John Haigh, Corporate Fundraiser at Martin House Hospice this week.
This significant amount was raised through the organisation of what is now the 3rd Annual Charity Golf day by the Law and Accountancy firms, attended by teams from Barclays, Devonshire Hotel, Armstrong Watson and Bluefin Insurance to name a few. It has become a day which is firmly etched in many companies calendars- guaranteeing to bring with it plenty of fun, competition, raffle prizes, food and drinks!
Speaking after receiving the cheque, John Haigh said: "Martin House are just delighted to have been supported once again by the AWB Charlesworth and Pearson and Associates teams. Their sustained support over many years makes a real and tangible difference to the lives of so many children and young people with life limiting conditions from across the county, enabling us to support more than 550 children and families each year.
We look forward to continuing this fantastic relationship into our 30th Anniversary year in 2017."
Mel Crewe, Marketing Executive at AWB Charlesworth said: "This is my first year of organizing the firms Golf event, and it was made relatively seamless by so much proactive support from local businesses who wanted to attend, or indeed donate to our Charity Raffle Prize. I am excited about our 2017 event, which will take place at Bradford Golf Club on Friday 16th June, 2017"
 If you wish to enter your company as a team to the forthcoming event, or indeed need any further details please contact Melanie.crewe@awbclaw.co.uk