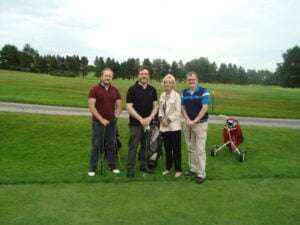 Liam O'Neill (Director), Umberto Vietri (Director), Melanie Crewe (Marketing Executive) and Declan Hayes (Director) at The Bradford Golf Club
AWB Charlesworth Solicitors and Pearson and Associates Accountants, held their 4th Annual Charity Golf Event on Friday 21st July as part of their ongoing support for their chosen Charity Partner Martin House Hospice. The event took place at The Bradford Golf Club, where fourteen teams of local business men and women competed in the 18 hole game, which included an attempt at 'beat the pro' and a competition for the straightest shot and nearest the line. In total the event raised almost £2200 for Martin House.
The day would not have been a success without the generosity and contributions of the local teams of players, the businesses who sponsored and donated prizes and the wonderful hospitality shown by The Bradford Golf Club. Teams supporting the 2017 Golf Day were Manse Capital, Credit Risk Solutions, Bluefin Insurance, LSI Gifts, Dinsdale Moorland Services, G.Clarke Landscaping, Stuart Mulligan IFA, Trio and Bulloughs Cleaning. Raffle prizes were generously donated by The Midland Hotel, Bradford Sytner Audi Group, Pennine Cycles, Timothy Taylors, Badgequo, and Keelham Farm. Other sponsorship was provided by Ashberry, Verner Wheelock, Adams Tebb, Bluefin, Craven Energies, G.Clarke Landscaping, The Kings Head, Alexanders Bar, Dragons Den, Bulloughs Cleaning, Bizzie Lizzies, LSI and Brook Taverner.
John Haigh of Martin House Hospice joined AWB Charlesworth and Pearson and Associates on the evening. He said: "It was an absolute delight to be invited to the 4th annual corporate golf day organised by Pearson & Associates and AWB Charlesworth Solicitors at The Bradford Golf Club on Friday. Martin House has worked in partnership with both these firms for more than 5 years, and it is the long term nature of this relationship which brings real value to all of the 550 local children and young people with life limiting conditions who are cared for and supported by Martin House each year. As we celebrate our 30th anniversary year this year and look forward to the next 30 years, we also celebrate our good fortune in having such sustained support from two businesses of the highest integrity. Many thanks from all at Martin House to both firms and to the players who dodged the showers and made the day".
 Declan Hayes, Director at AWB Charlesworth Solicitors said; "We are delighted to have hosted our 4th annual golf event alongside Pearson and Associates- and are thrilled with the amount we raised and the support we received from our players, sponsors and clients who generously donated raffle prizes. We feel honored to raise awareness for Martin House and to help provide much needed funding for the valuable services they provide for children with life limiting illnesses. We look forward to our 2018 golf event, as well as continuing to raise funds throughout the year, including our AWB Charlesworth bake off which will take place in October".
Paul Mason, from Pearson and Associates commented: "As ever our golf day turns out to be a very special day.  Special because listening to John Haigh and the work of the fantastic team and Martin House Hospice really puts everything else very much in to perspective.  Well done Martin House, well done everyone who dug deep in to their pockets.  Thanks as ever."
The 5th Charity Golf Event will take place on Friday 13th July 2018 at The Bradford Golf Club. Places are limited. To book a team onto the event or for more information email melanie.crewe@awbclaw.co.uk.