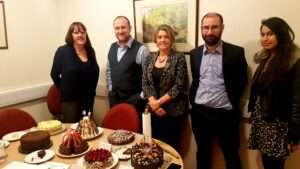 Inspired by the TV series, the Great British Bake Off, the staff at AWB Charlesworth have created some incredible cakes in aid of the charity MIND.
Now in its sixth year, the firm produced over 20 cakes across the offices and Allia Hussain from MIND In Bradford acted as judge.  
 The overall winner of the 2018 Bake-Of was Katie Ingham, Associate Director, with her   courgette and and lime cake and all the submitted cakes were then bought and enjoyed by   staff, clients and contacts over the following days.
The event was held to raise funds for the Firm's chosen charity MIND in Bradford – a Charity which provides support for individuals experiencing mental health difficulties.
Felicity Green, Practice Director commented that "The annual AWB Charlesworth Solicitors bake-off always leaves us astonished at the culinary talents of our colleagues across our offices.  We are especially grateful to the staff, clients and contacts who purchased cakes at £1 a slice.  This year, at the suggestion of a member of staff, all funds raised have been donated to MIND who provide advice and support to empower anyone experiencing a mental health problem. The firm promotes mental wellbeing in the workplace and we are very pleased to have raised £200 to support the work of MIND in the local community"
Helen Davey, chief executive of MIND in Bradford, said: "MIND in Bradford is an independent charity, affiliated to MIND and offers help and support to people in the Bradford and Craven districts who are struggling with their mental health.
"All money raised helps to fund our services, which include wellbeing groups offering everything from yoga, arts and crafts and mindfulness to anxiety support and recovery action planning.  We are very grateful to AWB Charlesworth Solicitors for choosing Mind in Bradford and for their generosity. We hope they enjoyed their Bake Off, too."
 If you would like more information about MIND and would like to find out how you can find out how you can get involved in raising money please visit their website at www.mindinbradford.org.uk