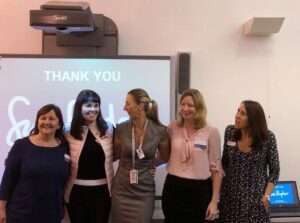 Pictured Left- Right.  Liz Smith (NatWest) Deana Morgan (Deana Morgan Dance Services) Emma Sadler-Mason (NatWest) Katie Ingham (AWB Charlesworth Solicitors) Molly Ralphson (Manorlands)
 The Aire-Valley professional networking group Women@Work organised by AWB Charlesworth Solicitors and NatWest Bank have raised over £420 for Manorlands at their latest event held on Thursday 6th December.
 Over 30 local businesswomen met for an informal breakfast networking event held at Manorlands.  The group heard from Molly Ralphson, fundraiser at Manorlands about the work of the charity and the importance of donations.   The group was also joined by Deana Morgan of Deana Morgan Dance Services who gave an inspirational talk about her business and career journey.
Katie Ingham, Associate Director AWB Charlesworth Solicitors and Liz Smith, Relationship Manager, Natwest run quarterly events designed to bring together local professional women for varied and unique events to provide opportunities to network and connect with new and existing contacts.
 If you would be interesting in attending the groups next event and/or would like to receive more information about professional networking forum Women@Work please do not hesitate to get in touch by emailing cati.edwards@awbclaw.co.uk or find out more about Women@Work online at Women@Work Aire Valley's LinkedIn group and @wawairevalley Twitter feed.