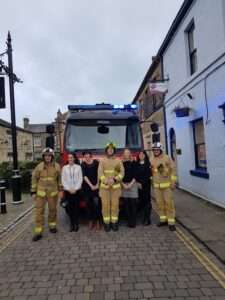 AWB Charlesworth solicitors limited have recently started working in conjunction with Skipton and Grassington Fire Service to offer a free wills service to local firemen and women.
 Sarah Richardson, a wills and probate executive at the firm, came up with the idea after learning that many of the fire service did not have wills in place.  The directors at the firm were keen to implement the scheme as soon as possible. Members of the private client department recently attended a drill meeting to discuss the importance of having a Will and the consequences of not having one in place.
 Jenny Barron, an Associate Director at AWB Charlesworth said  "As a local firm we are always looking for ways actively support the community, this scheme has provided a great opportunity to give something back to active members of the fire service in recognition of the invaluable service that they provide for the local area"
 Tony Peel the Station Manager commented "It has been a great opportunity for me and my fire service colleagues in the craven area to organise our wills. I didn't have a will before sitting down with Jenny and her colleagues at AWB Charlesworth solicitors, it is something I had always put back thinking I do not need one yet or I will get round to that soon. Having gone through the process of writing my will I never knew how easy it could be. I now have my last wishes written down in a legal format. I hope it will not be needed for some time. I'm happier knowing that if anything does happen to me my wishes are available for my loved ones and that they do not have to second guess what I would have liked to happen. I urge anyone without a will to get one done, It's very simple and may save a lot of hassle for loved ones left behind."
 Participants of the scheme were encouraged to make a donation to the fire service benevolent fund. You can read more about the charity here.
If you are looking to create, or update your will please contact Jenny Barron to make an appointment.