Respite care through a pandemic
This last year has been challenging for us all, but for families with a child with a life-limiting condition, this year has been extremely isolating and worrying. Many have been shielding the whole time, too anxious to go out and unable to access support in the community.
Ruby and Sophia's parents, Kevin and Lyndsey's lives were turned upside down last July when the twins were diagnosed with alternating hemiplegia of childhood, also known as AHC. AHC is a non-inherited genetic condition and is incredibly rare, Ruby and Sophia are two of just 50 children diagnosed in the UK.
The couple live with the anticipation of what each day may bring; how many times the twins may go into full body paralysis, experience painful dystonic episodes and even stop breathing.
Ruby and Sophia have been supported by Martin House during the pandemic, receiving emergency symptom control at the hospice.
"This last year, we've found Martin House to be quite the lifeline. I hadn't quite realised how exhausted I was; I was in tears constantly. I'm so used to putting a brave face on, but when one of the nurses at Martin House offered us an emergency stay, we knew we needed to take it."
"Initially, I was so worried about shielding with the girls, so even going outside of the house was daunting, but I soon realised how safe Martin House was."
"It's a holiday from real life, where we get the emotional support we need and the chance to just be mum and dad in a place we feel really safe."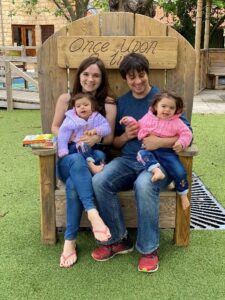 With running costs of £9 million a year and only 10% of their funding coming from statutory sources, Martin House relies heavily on the generosity of the local community. Your support ensures that Martin House is able to continue providing care to families like Ruby and Sophia's as we emerge hopefully from the grip of the pandemic.